Find everything training providers need to know about authoring tools in this free ebook!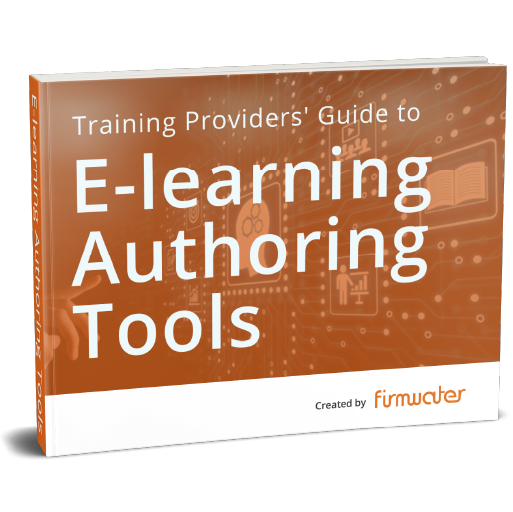 Learn what e-learning authoring tools are and why training providers use them

Find out about the different types of authoring tools and their strengths so you can choose the right one for your needs

Discover the important role authoring tools play in course creation
See the best free and paid authoring tools available

Learn about the best features of the best platforms to make informed decisions before you purchase

Discover the most important questions to ask before you choose an authoring tool and more!
Excerpt
Training Providers Guide to E-learning Authoring Tools
Learning about all the options for e-learning authoring tools can be confusing! This guide will simplify your process with an in-depth look at the many topics and questions that you may have about e-learning authoring tools.

Here, we dive into everything that you need to know about authoring tools. You will learn what they are and why you should use them. Find out how authoring tools make e-learning more engaging and effective and why using them benefits you, your client, and end-users. We also cover the different types of tools and important features to look for. You will find in-depth information on our favorite authoring and quiz tools and recommendations for getting started and moving forward. By the end, all your questions about authoring tools will be answered, and you can move on to deciding what one will work best for your business.
What Are E-learning Authoring Tools?
Let's first discuss the difference between an authoring tool and a learning management system (LMS). Both are necessary tools in your training provider toolkit, but each has a specific job. Your LMS is software that handles the administration and distribution of your training materials, while your authoring tool is a program used for course creation. Using them together, you can offer clients top-of-the-line training materials.
An authoring tool enables you to create and organize content into a general course structure that is formatted specifically for digital online learning. Authoring tools can help you build many different types of content, whether it's text-based, video content, quizzes and tests, or simulations. Using one of these tools means that even e-learning beginners can make professional, top-of-the-line content. When you look around for e-learning authoring tools, you'll find a plethora of choices, from built-in and third-party to cloud-based and desktop.
So, what's the right tool for your business? It depends. You must first determine your needs, goals, and budget. Consider what type of e-learning experience you want to offer, your technical abilities, the kind of data that you want to collect, and how you will maintain and update your content in the future. Keep these considerations in mind as you learn about different e-learning authoring tool options.
What Are the Advantages of Authoring Tools?
Using an authoring tool to create your online content offers many advantages. One of the best is how easy they are to use, whether you have a professional designer or not. Most e-learning authoring tools have a selection of templates that you can use to build professional-looking courses. Simply take the content that you have prepared, and put it into a premade template to create a dynamic learning experience for your users. Once your course is put together, it takes little time to publish it to your LMS.
If you are using a cloud-based tool, you get the added benefit of being able to work collaboratively with your whole team. Work can then be done at any time and from any place, and additional updates or approvals can happen quickly. This type of work is exceptionally cost-effective. In addition, workers at any level of expertise can easily work together.
As a training provider, you have unique needs when it comes to building courses. Instead of one learning population, you may have many separate clients, each with their own specific branding and customization options or even different courses. Using an authoring tool gives you a broad range of customization options and flexibility to build courses that fit each client. Whether this means creating separate courses or just making slight adjustments for each client, with an authoring tool, you can provide an excellent product for each client...