Get the best practices to design, develop, & deliver your training to more clients with less headaches in this free guide!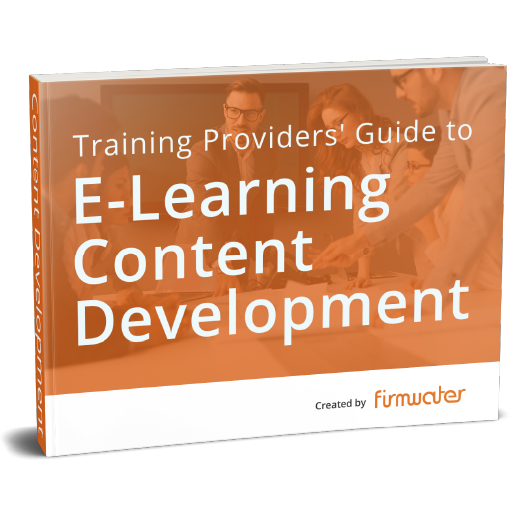 Get an inside look at how training companies just like yours deliver training to multiple clients via e-learning.

Find the best practices for designing and developing digital training courses to various clients.

Get a roadmap to follow to deliver effective courses that you can adjust with circumstances.
See the critical steps to take to deliver effective employee training programs to your clients.

Gain insights on best practices so you can avoid costly mistakes with clients.

Understand the principles that elevate user experiences and help you deliver more training for scalable business growth with less work and stress.
Excerpt
Training Providers' Guide to E-Learning Content Development
There's no question about it: e-learning is big business. In fact, it's estimated that by the year 2026, the e-learning industry will be generating nearly $400 billion annually. If 2020 taught us anything, it's that the ability to transition operations to a virtual platform may well mean the difference in a business's survival. That includes the capacity for a company to take its learning and development processes online.
For training providers, the future has never been brighter. However, this moment is not just one of extreme opportunity but also of extreme competition for your target customer's attention, interest, and loyalty.
To capitalize on the promise of this time and to tap into the robust and growing demand for quality e-learning content, it's imperative that you differentiate your product from a sea of others. This ebook guide will provide actionable tips that you can begin integrating into your course development strategy today to help you develop premium content that is head and shoulders above your competitors. It will also describe best practices for growing your business, driving workflow efficiency, and maximizing the value of your content. In addition, you will learn about common mistakes that training content developers make and how to avoid them.
Whether you're new to training content development and are looking to enter this exciting field or you're an experienced trainer seeking new ideas to capitalize on this opportune moment in the industry, this guide has something for you!
1. Understanding First Principles
When you're developing training content, strategy is everything. In this industry, failing to plan often does mean planning to fail. So, it's incumbent upon you to understand who your clients are and what they need before you can even begin thinking about the course plan, content, assets, and deliverables.
Understanding the Development Scenario
A vital consideration in this preliminary planning stage is the content development scenario itself. The context in which your courses are developed can vary significantly, depending on the nature of your business.
For example, your content may be designed for B2B sales, for businesses that provide employee training courses to client enterprises. On the other hand, you may be developing content for B2C, direct-to-consumer sales, or you may take special orders, designing custom, bespoke content based on your client's unique specifications.
In many ways, the best practices for content development will be largely the same, regardless of the particular client or sales channel. This guide will focus on those more "universal" best practices, to help streamline your course development process without compromising quality. This includes the fact that when you are developing content for adult learners, you must ensure that every element is relevant, useful, and engaging, moving learners clearly, directly, and systematically toward their end goals, whatever those may be.
Content for Third-Party Vendors and Mass Market Sales
There may be times when the courses that you develop will not be bespoke or custom content. It's possible that you may not have direct access to your course buyer and/or end user, particularly if you are creating courses for the mass market, as when selling B2C content for Shopify. That means you may not have the luxury of the customer or end users' specifications and unique needs and goals...