Learn the ins and outs of elearning for training providers in this free ebook!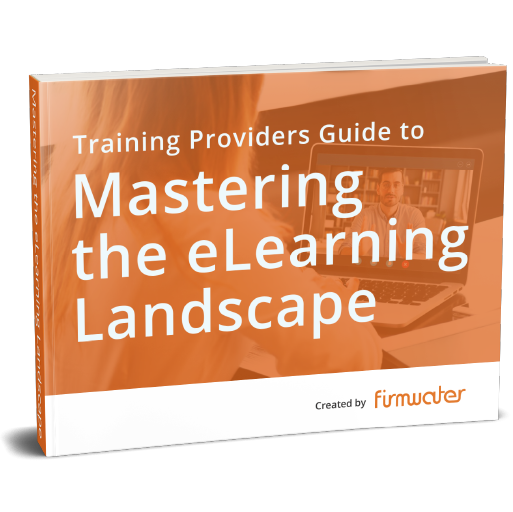 Learn about what to look for in order to choose the right authoring tools

Get insights on how to create a better learner experience with your toolset

See how to validate your training course idea to ensure there's a market for it
Gain best practices around converting PowerPoint slides into interactive elearning experiences

Understand the importance of reporting from your LMS and the role it plays in growing your business and retaining clients

Get tips on how to manage your elearning content and more
Excerpt
Training Providers Guide to Mastering the eLearning Landscape
Are you a training provider attempting to move into e-learning? If so, this training provider's guide to e-learning is for you. Mastering the e-learning landscape takes up valuable time and resources, and we want to help you succeed as quickly and efficiently as possible. We specialize in partnering with training companies, and we know what it takes to thrive and grow in the competitive e-learning industry. This guide will help you transition from in-person to digital training with ease. If you need any support or information, feel free to contact us at any time.

We want to make your transition as stress-free as possible. This guide will take you through three comprehensive stages: devising a plan, designing your courses, and deploying your content. Not only will you learn the basics of being an online training provider, but you will also get a walkthrough of the best tools and practices available to complete your digital conversion. By the end of this e-book, our goal is for you to feel 100% confident in your ability to become a digital training provider.


Introduction


There's never been a more exciting time to enter the e-learning market. The market has been in growth mode for years, but then COVID-19 hit, exponentially increasing the need for high-quality education to be available from anywhere. Taking your training online will open your company to tremendous growth potential. All you need is credible knowledge, a straightforward action plan, and a bit of time.

Jumping from in-person training into the digital realm can be a formidable task. As a traditional in-person training provider, you may be overwhelmed with the vast knowledge and resources it takes to move to a digital model. However, this training provider's guide to e-learning will simplify your path and have you on the road to a booming e-learning business in no time!



Stage One: Devise a Plan
What tools do you need?
Moving to online training will require different tools than what you've traditionally used for in-person training. One of the most vital is the authoring tool. With this, you can create content with little to no technical or programming experience. There are many options to consider, but mainly, you want to choose software that is compatible with the other tools you will use and that is SCORM compliant. Depending on your business needs, you may also want to look into screen-recording tools, audio/visual tools, and graphic design programs.
Another major component is your LMS, or learning management system. An LMS is a platform that will help you host and deliver your learning content. A good LMS is like a partner and will be the cornerstone of your e-learning management. As a training provider, you should choose an LMS, such as Firmwater LMS, that is built for your specific needs. When you evaluate your options, you should determine what functionalities you need. At a minimum, a training provider will require a SCORM-compliant LMS that can manage multiple accounts and has many integration options.
Lastly, think about where you're going to be marketing and selling your online training. You need a powerful e-commerce platform that can work with your LMS, giving you flexibility and superior growth tools. Shopify, a Firmwater partner, includes everything that you need to sell online. You can quickly and easily set up an online storefront to sell your training courses. The platform also helps you get paid promptly and securely and when paired with the Firmwater LMS, delivers your courses automatically. In addition, Shopify enables you to optimize for growth with built-in tools for SEO, analytics, and email marketing.